After Dark has just been released!
After Dark, the first book in the East End Irregulars series, is now available for purchase!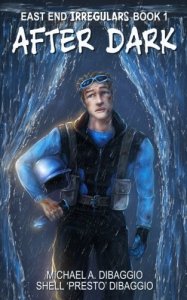 When he was five, Sebastian Pereira watched the Target beat up a bank robber. Ever since then, he's wanted to be a superhero. Now a teenager, he's chasing the dream. As the water-controlling psychic vigilante called Torrent, he prowls the streets of Pittsburgh, doing his best to right wrongs and keep his double life a secret. But life in the mask brings more challengers than he anticipated, and even dual superpowers aren't always enough. Besides facing down the street thugs, monsters, and madmen, he's got to master his hormones and keep his conscience. With help from his paranormally gifted crush and his thrill-seeker best friend, he just might make it — and they just might make the best superhero team in the Burgh.
The East End Irregulars are Pittsburgh's premier superhero team, but even they had to start somewhere. These stories follow the early days of the Irregulars, from their first battles with Miasma and the Global Parahuman Revolutionary Army to their troubled romances and moral dilemmas.
After Dark is available for $4.99 as a Kindle Select title and in paperback at the suggested price of $12.99.
You can read one of the included chapters, Grimalkin, for free here.
Published On
Crafting open content fiction with a libertarian perspective
Join The Discussion
No Comments